TIME TRIAL ROLLING RESISTANCE DATA
VITTORIA / MICHELIN / PIRELLI / SCHWALBE / CONTINENTAL / SPECIALIZED
In previous tests we have shown the importance of rolling resistance on cycling performance. A tyre with a high rolling resistance will require more power to travel at the same speed, whilst a low rolling resistance tyre requires less power.

We performed a series of tests on some of the top time trial tyres available on the market, in both tubeless and clincher format to determine which had the least rolling resistance.
The goal of this test was to evaluate the rolling resistance performance of tyres typically used in time trials.
---
WHICH IS FASTER - TUBELESS OR CLINCHER?

Tubeless tyres use sealant to create an airtight seal and allow inflation, whereas clincher tyres use inner tubes. The speed of a tyre depends on its construction, not just on whether it is tubeless or clincher. This means that a slow tubeless tyre will have a higher rolling resistance than a fast clincher tyre, so each must be taken on their own merit. There is also overall no difference in rolling resistance between the same tyre set up tubeless, and using a latex tube.

---
For this test we used a selection of newer models as well as a range of Continental tyres which we have previously tested.
All the tyres were mounted on a shallow section aluminium rim, with an external rim width of 24.7mm and an internal rim width of 19.6mm, and inflated to 90psi.
CLINCHER ONLY

Michelin Power TT 25mm


Pirelli P Zero 23mm

Specialized Turbo Cotton 24mm

Continental GP5000 23mm

Continental GP5000 25mm

Continental GP4000 23mm

Continental GPTT 23mm
TUBELESS COMPATIBLE

Vittoria Corsa Speed 23mm

Vittoria Corsa Speed 25mm

Schwalbe TT TLE 25mm

Continental GP5000 TL 25mm

Specialized S Works Turbo Rapidair 26mm
---
ROLLING RESISTANCE RESULTS
Generally speaking wider tyres have lower rolling resistance - and for the equivalent tyre this is what we found (the Continental GP5000 in 25mm and Vittoria Corsa Speed in 25mm both had lower rolling resistance than their 23mm equivalents).
In order to test rolling resistance, we swapped between the tyres as a rider rode a bike on rollers, measuring power output and speed, as well as atmospheric conditions and bike/rider weight, repeated over a number of days testing. This allows us to calculate what is known as the Coefficient of Rolling Resistance (or "Crr"), which can be used to model the power output required to travel on a normal road. A lower Crr is better - in that it requires less power to travel at the same speed.
The results of the roller testing are shown below: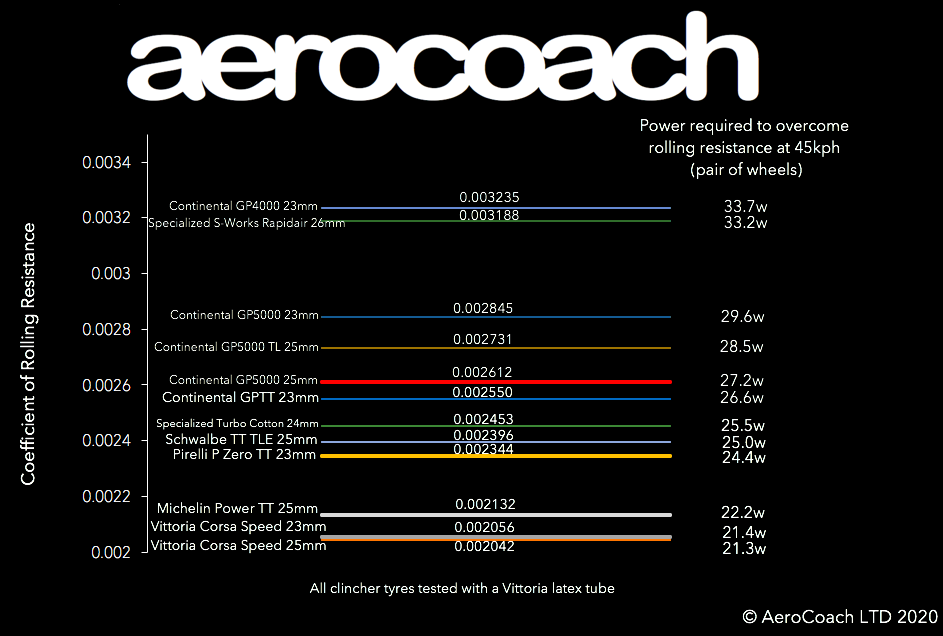 The Vittoria Corsa Speed (which is inner tube or tubeless compatible) was the fastest tyre on test, in both 23mm and 25mm. However the Michelin Power TT (clincher only) tyre in 25mm was extremely close and only had a 0.8-0.9w penalty for a pair of wheels at 45kph.
The faster tyres were also some of the thinnest and lightest - the Pirelli P Zero (clincher only) weighed in at a super lightweight 178g!
For better puncture protection on rougher roads however, thicker tyres such as the Specialized Turbo Cotton (clincher only) or the various Continental GP5000 tyres (clincher and tubeless compatible) may be a better choice.
---
In this test we found that the Vittoria Corsa Speed was the fastest clincher tyre as well as being tubeless compatible. The new Michelin Power TT tyre was a very close second, however this was clincher only. The next fastest tubeless tyre was the Schwalbe TT TLE (3.6-3.7w penalty for a pair of wheels at 45kph over Vittoria Corsa Speed).


The difference between the fastest tyres and the Continental GP5000 range was around 5-8w for a pair of wheels - which given the slightly thicker construction of the GP5000 range is potentially a penalty that can be worth having to reduce the risk of punctures.