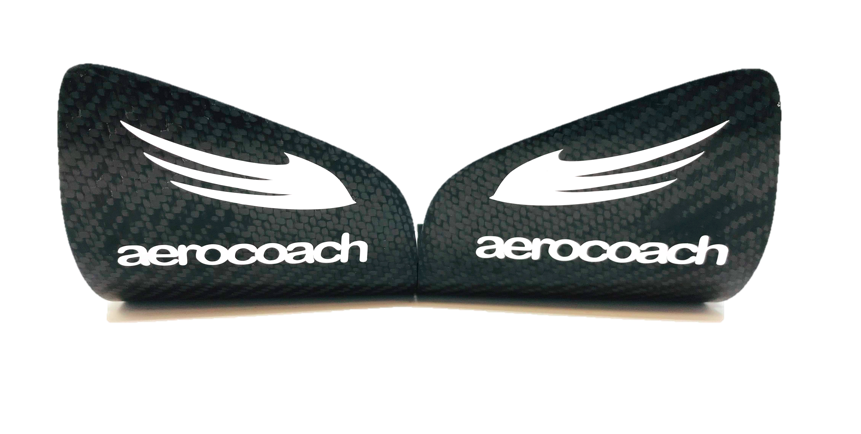 AeroCoach Align Wing carbon arm rests
£115.00 incl. tax*
ALIGN WING CARBON
Align Wing Carbon builds on the hugely popular Align but giving a higher 70mm outer edge and tapered angle towards the end of the aerobar extension. Made from carbon fibre with a structural composite core, Align Wing Carbon are rated for >1600N of force applied to the edge of the wing, keeping you locked in the aero position, safe and secure.

STABILITY/COMFORT/BIOMECHANICS
High outer edges help reduce unwanted movement, and removable 8mm Neoprene® foam allows for a comfortable support for your arms. Align Wing Carbon has 70mm high sides and a 90mm long base section. The slotted 5.5mm bolt holes are compatible with M4, M5 and M6 bolts, and give angular adjustment, a large range of fore/aft adjustment as well as side/side movement. Steel washers are included in the pack for use with flat head bolts. Please note flat head bolts must be used (not tapered V head bolts).

FITTING INSTRUCTIONS

Simply remove your current aerobar arm rests and replace with Align Wing Carbon.

Please refer to your aerobar manufacturer's recommend torque settings during installation - longer/shorter bolts may be required if your current armrests are less/more than 3mm thick. On USE Tula aerobars Align Wing Carbon can be rested either on the base bar wing or front extension cylinder, covered by a small piece of electrical tape. For Trek SpeedConcept, Pro aluminium bars and Scott Plasma 5 aerobars one bolt can be used.
DIMENSIONS (UCI LEGAL)

Height: 70mm
Length: 90mm
Width: 100mm
Base thickness: 3mm

Bolt compatibility: M3, M4, M5, M6

Foam: 10mm velcro backed
Weight: 100g/pair
* Based on residence in United Kingdom. Tax rates for other countries will be calculated at the checkout. Price exclusive of tax: £95.83.