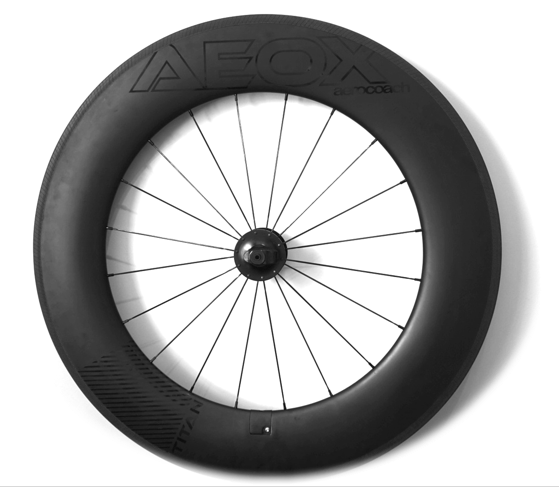 AeroCoach AEOX® TITAN aero wheels
£795.00 incl. tax*
Wheel option
Brake compatibility
Tyre upgrade
Please note: there is currently a 4-5 week lead time on AEOX TITAN disc brake orders - rim brake in stock now!
---


ULTIMATE STABILITY - UNRIVALLED AERODYNAMICS
THE FASTEST WHEEL WE'VE EVER TESTED
---
DRAMATIC WHEELS FOR ULTIMATE SPEED
Incredibly deep but astonishingly stable, AEOX® TITAN wheels raise the bar for speed and real world performance. Featuring our industry first hidden valve system, high flange, narrow profile front hub and a full carbon clincher tubeless rim, TITAN wheels are far ahead.

Designed with AeroCoach's years of experience in CFD, wind tunnel testing and real world aerodynamics, TITAN wheels are best suited for fast time trials and triathlon but also legal for road racing* - available in rim brake or disc brake options.
---
THE AERO EXPERTS
We performed extensive testing with our AEOX® wheel range to make sure that you have as much information as you need, to go as fast as possible. See below for our comprehensive testing data.


TYRES
AEOX® TITAN wheels are designed for out and out speed and work optimally with a 23mm Vittoria Corsa Speed 2.0 tyre. Vittoria Corsa Speed tyres can be run tubeless, but a Vittoria latex tube will also be as fast, just without the puncture protection of tubeless. If you want to use a Continental GP 5000 TL tyre, we recommend an AEOX® ZEPHYR wheel.
For more information on tyres - please see our handy tyre page, along with a personal tyre pressure calculator for AEOX® wheels!
---
---
AERO DATA - TITAN FRONT
An AEOX® TITAN wheel is a serious upgrade to your bike. The graph below shows the result of testing competitor front wheels in the wind tunnel, where the TITAN comes out on top - with better handling in the real world. In this graph we used Vittoria Corsa Speed 2.0 tyres, and competitor wheels were fitted with the tyre width (either 23mm or 25mm) that resulted in the lowest aerodynamic drag for each wheel.


---
FEATURES
1. AEOX HUB
Part of what makes the AEOX® wheels fast is the custom stiff high flange narrow front hub (rim brake version). Look down at the wheel from your cockpit and the spokes disappear inline with the rim – reducing frontal area and overall wheel drag with no effect on stiffness compared with other time trial wheels. The AEOX® hub has been designed to provide top level aerodynamics in a stiff, race worthy package. Disc brake wheels use the AEOX® straight pull disc brake hub.


2. MULTI PURPOSE VALVE CUTOUT
An unique feature of an AEOX® wheel is the valve cutout. A custom carbon valve cap allows for the valve to either stay completely hidden, partially hidden or exposed as normal.



3. LASER CUT BRAKE TRACK
Smooth and efficient braking with our special laser cut braking surface and AEOX® carbon brake pads. Please note that you must use the supplied brake pads with your AEOX® wheels.


4. TUBELESS COMPATIBLE
Say goodbye to punctures by running your wheels tubeless – all AEOX® wheels are compatible with tubeless tyres and kits. Please note that tubeless tyres must be set up by a professional cycling mechanic.


5. WHAT'S INCLUDED
Each wheel comes with pre installed tubeless compatible rim tape, an AEOX® tubeless valve, AEOX® skewer, AEOX® carbon brake blocks and full instructions.


6. CUSTOM COLOURS
We can provide custom coloured decals for an additional surcharge. If you would like a custom colour decal with your AEOX® wheel please get in touch!


SPECIFICATIONS
Weight: 985g (front) / 1040g (rear) / 2025g (pair)
Material: Carbon fibre
Hub: AeroCoach AEOX® hub
Spokes rim brake: 20x (front) / 24x (rear)
Spokes disc brake: 24x (front) / 24x (rear)
Rim depth: 100mm
Rim width external (brake track): 26.7mm
Rim width internal: 19.6mm
Recommended tyre: Vittoria Corsa Speed 23mm
Weight limit: 100kg
*UCI approval pending
* Based on residence in United Kingdom. Tax rates for other countries will be calculated at the checkout. Price exclusive of tax: £662.50.