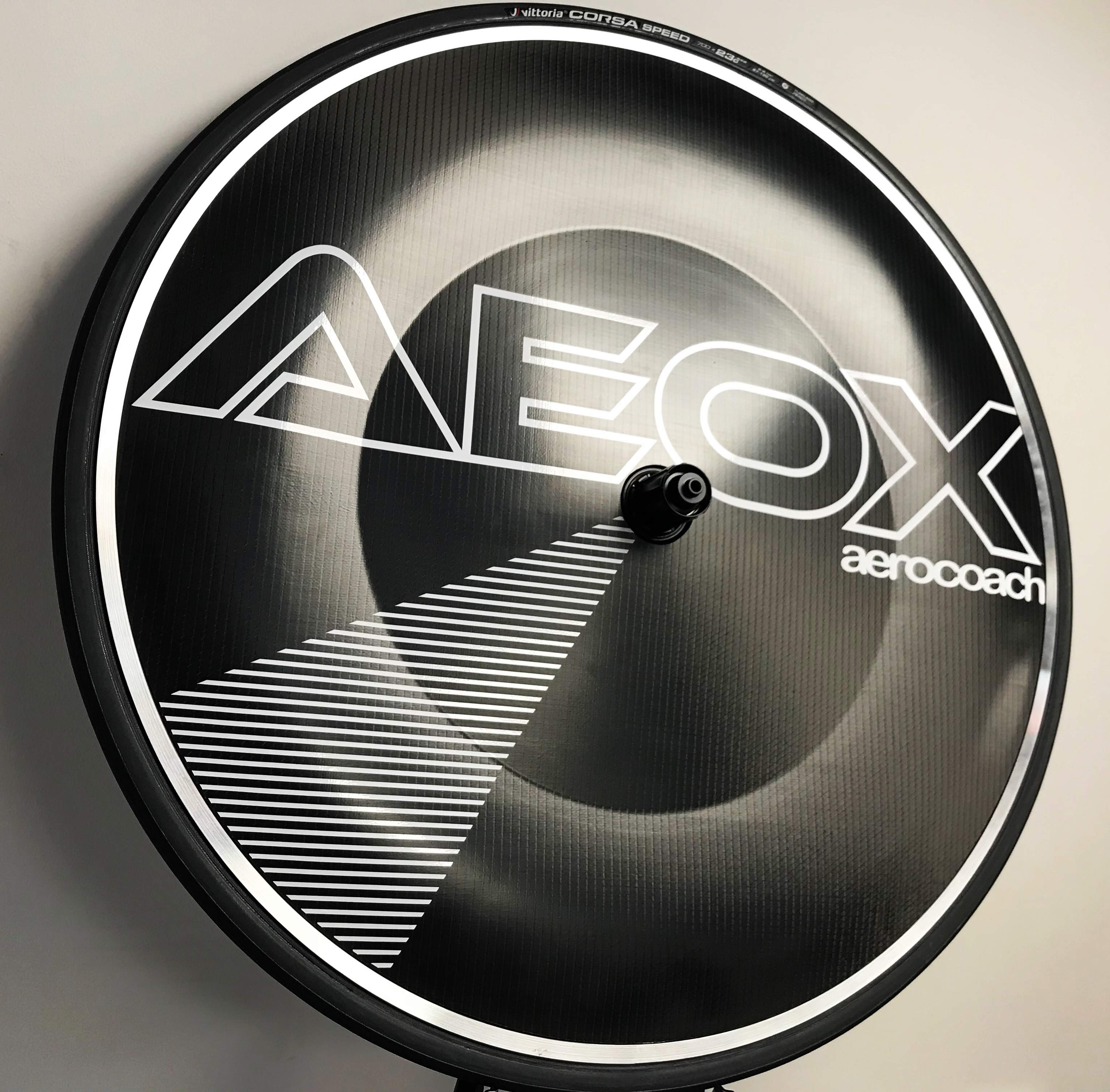 AeroCoach AEOX™ tubular tandem carbon disc wheel
£1,085.00 incl. tax*
Wheel
Tyre upgrade
Accessories
PLEASE NOTE - AEOX™ Tandem discs are special order - please contact us for delivery times
The AeroCoach AEOX™ tubular tandem carbon disc is built specifically to cater for the high weight and stiffness requirements of tandem riding. Made in the UK, with a 23mm wide tubular rim, the tandem disc has custom biaxial carbon laminate sides, with 32 plain gauge internal spokes for ultimate strength. Limit is 175kg rider weight combined.
DEVELOPMENT
CFD, track and real world optimised, the AEOX™ disc is the most aerodynamic tubular disc available. The drive side and non drive sides have been shaped to reflect differing airflow and interactions between frames and cassettes, and the wheel has been specifically designed to interact with the fastest clincher tyre on the market - Vittoria's Corsa Speed, as well as being 100% compatible with all other tubular tyres. For tandem usage we recommend 23-25mm tyres.
DATA
This graph shows wind tunnel data comparing the AEOX disc against a Zipp Super 9 and HED Jet+, all mounted with a 23mm Vittoria Corsa Speed tyre inflated to 90psi. Test speed was 45kph.


INSTALLATION
The AEOX™ disc is compatible with Shimano and SRAM 11 & 10 speed cassettes. Please check compatibility with the non drive side chainstay of your bike using the graph below, showing the location of the outer shell. You should ensure there is 1.5-2mm of clearance at the specified locations. Please note that tubular tyres must be installed by a professional cycling mechanic.
SPECIFICATION
Weight: 1325g±30g
Shell material: Biaxial carbon laminate
Rim width: 23.0mm
Recommended nominal tyre width: 23-25mm
Weight limit: 175kg
* Based on residence in United Kingdom. Tax rates for other countries will be calculated at the checkout. Price exclusive of tax: £904.17.