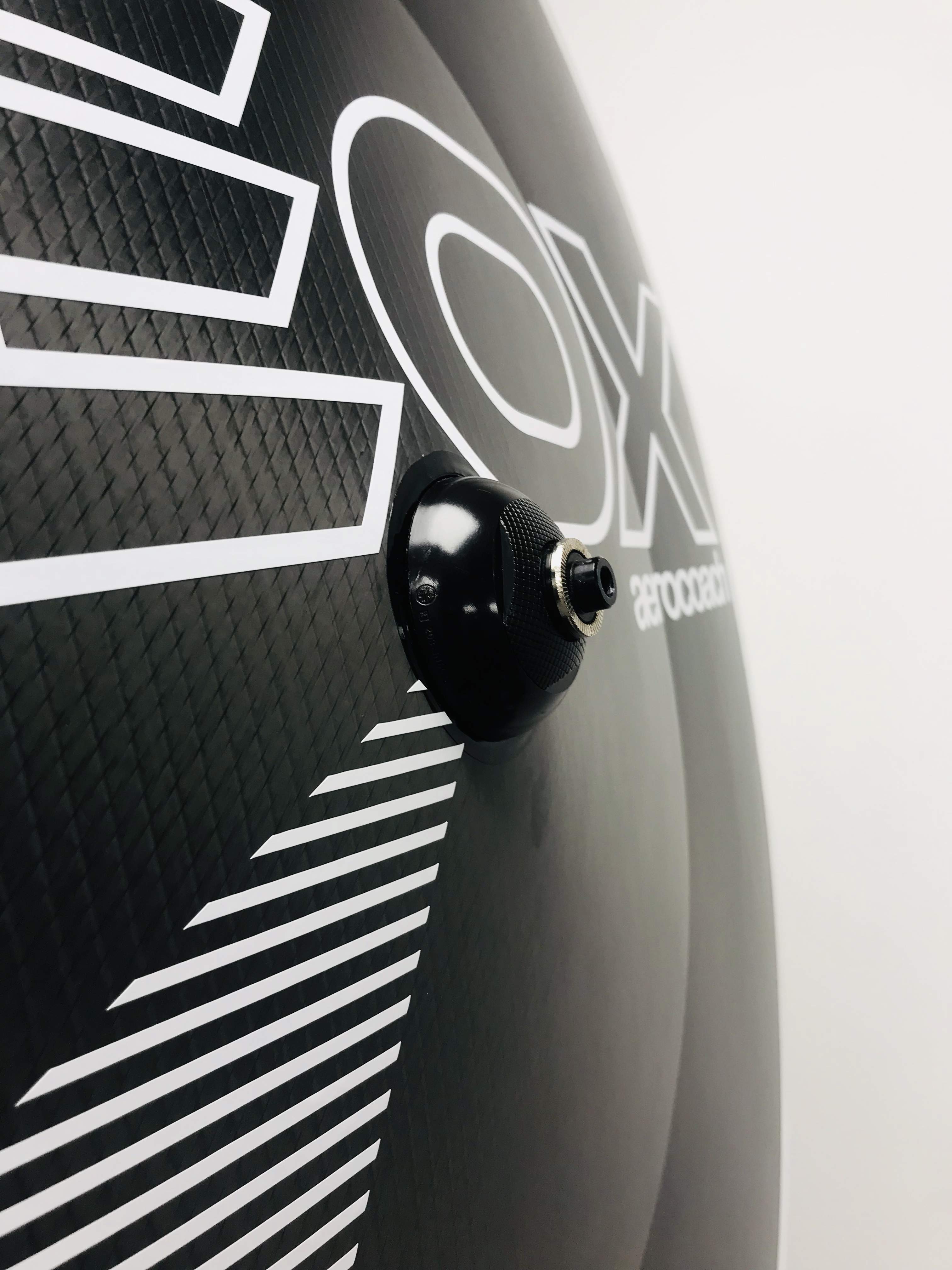 AeroCoach AEOX™ CUSTOM disc wheels (inc. Powertap upgrade)
£815.00 incl. tax*
PURE SPEED - NOW CUSTOM

AeroCoach AEOX™ Carbon Custom discs provide exceptional aerodynamics and performance in an affordable and lightweight solution. Whatever rim type you require (clincher, tubeless, tubular), whatever spoke type / count you need (24-32), we can build it! We can also convert used Powertap hubs to full disc wheels. Each disc is built with our unique ultra aerodynamic AEOX disc sidewalls, with biaxial carbon sides.
POWERTAP UPGRADE
To upgrade a used Powertap hub, simply order a Powertap upgrade from this page, delace the hub from its current rim, remove the cassette and send it to us (using the address on the Contact page
HERE
) for building into an AEOX disc. Please include your order number with the hub when sending it in, along with your return address. Powertap upgrades are built onto our tubeless compatible 24.7mm wide aluminium or carbon rims with Sapim laser spokes, and AEOX carbon sidewalls. Please note that due to the spoke entry points on J bend (not straight pull) Powertap hubs, there will be limited to no clearance for the largest sprocket on 11 speed cassettes, except for large sprockets (eg. 32t). Although the process of converting a Powertap hub to an AEOX disc will not damage the internals of the Powertap hub or affect calibration, it is not reversible.
CUSTOM SPECS
Please get in touch for custom order quotes, using the contact form
HERE
for any queries.
DEVELOPMENT
CFD, track and real world optimised, the AEOX™ disc is the most aerodynamic tubeless disc available. The drive side and non drive sides have been shaped to reflect differing airflow and interactions between frames and cassettes, and the shape has been specifically designed to interact with the fastest clincher tyre on the market - Vittoria's Corsa Speed, as well as being 100% compatible with all other clincher/tubeless tyres.
DATA
This graph shows wind tunnel data comparing an AEOX disc against a Zipp Super 9 and HED Jet+, all mounted with a 23mm Vittoria Corsa Speed tyre inflated to 90psi. Test speed was 45kph.


INSTALLATION
AEOX™ discs are compatible with Shimano and SRAM 11 & 10 speed cassettes. For tubeless conversions we recommend the Zefal tubeless kit (with 40-45ml of sealant) in combination with a Vittoria Corsa Speed 23mm tyre, which can be purchased with the wheel, along with a padded wheelbag if necessary (skewer is not included). Please note that tubeless tyres must be set up by a professional cycling mechanic.
* Based on residence in United Kingdom. Tax rates for other countries will be calculated at the checkout. Price exclusive of tax: £679.17.