AEOX TUBELESS DISC WHEEL DATA
The AeroCoach AEOX tubeless disc wheel was designed using Computational Fluid Dynamics (CFD), and then refined using real world testing. Using CFD allows us to test a variety of different shapes in a very controlled environment, in order to make minute changes to the shape and surface of an object whilst analysing the aerodynamic performance.
TYRES & TUBELESS COMPATIBILITY


At the beginning of the project we decided to focus on making the AEOX disc the best combination of aerodynamic drag and rolling resistance.
We conducted tyre testing on tubeless tyres to find the best (lowest) rolling resistance tyre, which was a Vittoria Corsa Speed, and then modelled this tyre for CFD so that the AEOX disc interacted perfectly with the rim. Reducing the gap between the tyre sidewall and the top of the brake track we found was very important for aerodynamics.
We use a tubeless compatible rim for the AEOX wheels, which has a 19.6mm internal diameter and 24.7mm brake track width.
CFD results
In CFD we benchmarked multiple iterations of AEOX disc design against a known good wheel, the HED Jet+. The HED Jet+ is a World Championship winning wheel with good pedigree, but we found that our final shape beat the HED Jet+. This graph is wheel only data in a "virtual" wind tunnel, where larger differences will be found compared with a wheel mounted at the back of the bike.

---
WIND TUNNEL TESTING RESULTS
In the wind tunnel we used a Cervélo P2 for testing with a pedalling rider, along with an AEOX front wheel, whilst swapping the rear wheels between a Zipp Super 9, HED Jet+ and AEOX carbon (UPDATE - we also performed a second test which included the Roval 321 disc). All wheels were fitted with a Vittoria Corsa Speed in size 23mm, inflated to 90psi. Test speed was 45kph.


All tyres will measure differently in width depending on the rim they are mounted to, and these were the measured widths:
Zipp Super 9 = 23.73mm
HED Jet+ = 26.42mm

ROVAL 321 = 26.60mm
AEOX = 25.58mm

When interpreting wind tunnel results it is important to understand yaw angle weighting.


Real world cycling is affected by changes in wind speed and direction.
The angle of attack of the wind on the cyclist is referred to as "yaw angle", and this is affected by four components - rider speed/direction as well as the wind speed/direction.

While cycling on the road, you will experience a range of yaw angles. Very high yaw angles are much less common than lower yaw angles, and this can be expressed as a weighting function - for example at 45kph you spend ~80% of your time at 7.5deg yaw or less. At <40kph this extends out to 10deg, and at >50kph you will typically see 5deg or less.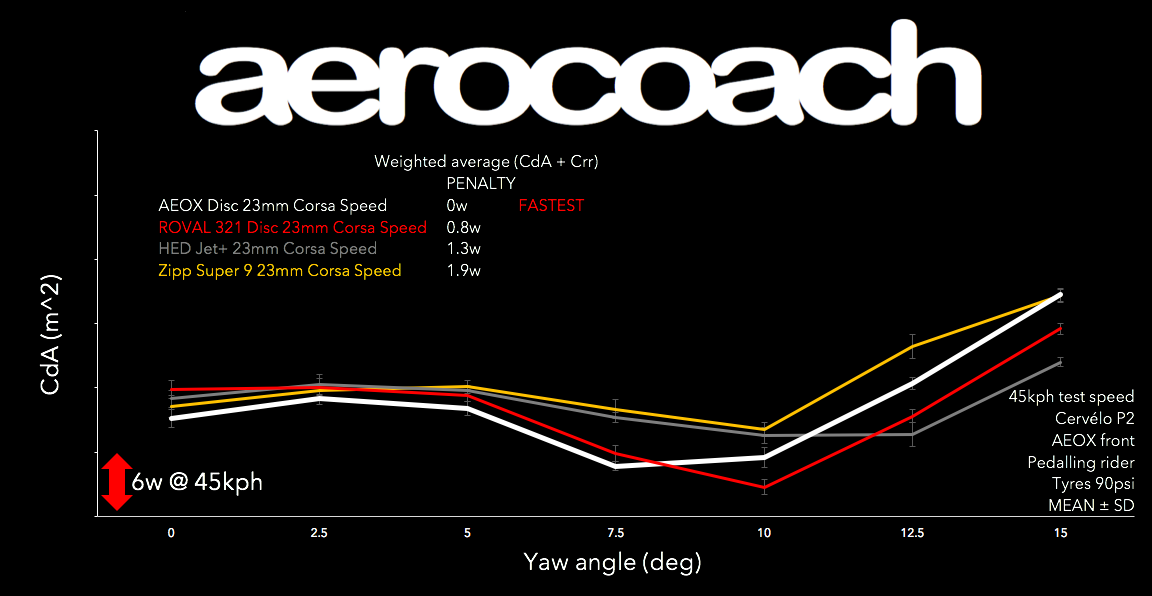 ---
AEOX carbon tubeless disc wheels are fully tubeless compatible and designed to work best with Vittoria Corsa Speed tyres to give ultimate speed performance, whilst being fully compatible with all clincher tyres. If you're looking for more puncture protection then a Continental GP5000 TL (in size 25mm) is an excellent fit. There is a small rolling resistance penalty by choosing a Continental GP5000 compared with a Corsa Speed.
We recommend for most riders to use a 23mm tyre as this will spread out to >25mm when installed, although (depending on the bike) there almost no aerodynamic penalty from swapping to a 25mm tyre. We designed, tested and manufacture the AEOX discs in house at our HQ in the UK and ship worldwide. If you have any questions please don't hesitate to contact us!